Karoyog's Revolutionary Online Yoga classes for Beginners and beyond one
Introduction
Karoyog's Revolutionary Online Yoga classes for Beginners and Beyond offer a transformative experience for individuals seeking both physical and mental well-being. In today's fast-paced world, these classes are a beacon of hope, providing a holistic approach to yoga that goes beyond the basics. With the growth of interest in yoga, many people are eager to start their yoga journey. However, finding a suitable place to begin, especially for beginners, can be a daunting task. This is where Karoyog's Revolutionary Online Yoga classes for Beginners comes into play, offering a transformative and accessible path to well-being.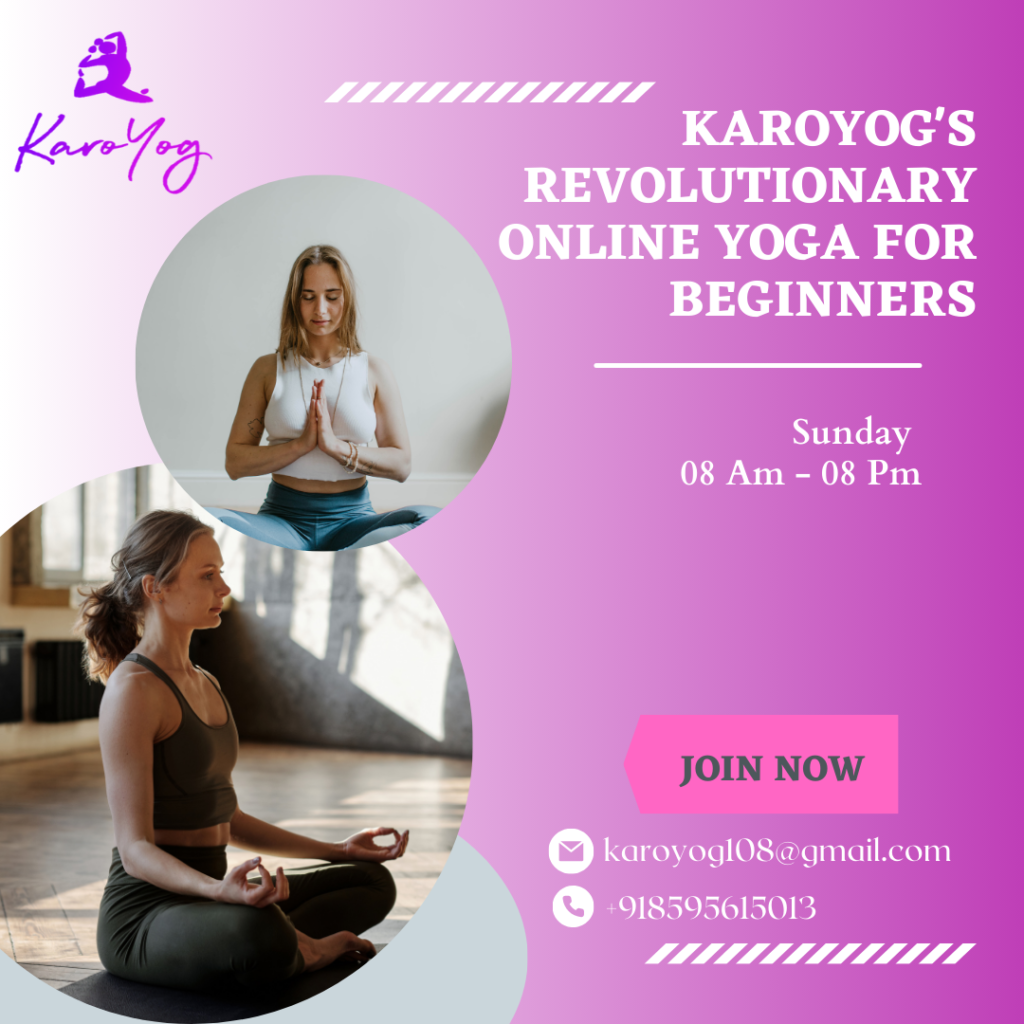 The Revolutionary Online Yoga classes for Beginners
Karoyog, an innovative online platform, is changing the way people experience and embrace yoga. Their online yoga classes for beginners are nothing short of revolutionary. Here's what sets them apart:
Accessibility: Karoyog's online platform offers unparalleled accessibility. Whether you're at home, at the office, or traveling, you can access their classes 24/7. This flexibility makes yoga accessible to anyone, anywhere, anytime. Karoyog addresses this by making yoga accessible to everyone, regardless of their experience level or busy schedules. The online format allows you to practice yoga at your convenience, fitting seamlessly into your daily routine. Whether you're a novice or an experienced practitioner, these classes are tailored to meet your unique needs.
Customized Classes: The platform understands that everyone's journey into yoga is unique. Karoyog offers a wide range of classes that cater to different needs, levels, and goals. Whether you're interested in flexibility, relaxation, strength, or mindfulness, there's a class for you.
Expert Instructors: Karoyog collaborates with a team of experienced and certified yoga instructors who guide you through each session. Their expertise ensures that you're practicing yoga safely and effectively.
Progressive Curriculum: Karoyog's curriculum for beginners is designed to gradually build your skills and understanding of yoga. The step-by-step approach helps you avoid injuries and ensures that you progress at your own pace.
Variability: Karoyog's classes incorporate various styles of yoga, from Hatha to Vinyasa, allowing you to explore and discover the one that resonates with you the most.
The Benefits of Karoyog's Online Yoga for Beginners
Stress Reduction: In the hectic pace of modern life, stress is a common companion. Karoyog's online classes for beginners provide you with tools to manage stress through yoga, deep breathing, and relaxation techniques.
Improved Flexibility and Strength: Regular practice with Karoyog helps increase your flexibility, balance, and strength. These benefits are not only physical but also contribute to overall well-being.
Mental Clarity: Yoga is not just about the body; it's also about the mind. Karoyog's classes help you develop mental clarity and focus, which can be immensely valuable in all aspects of life.
Enhanced Sleep: Many beginners find that practicing yoga with Karoyog leads to improved sleep quality. The relaxation techniques employed in their classes can help you unwind and fall asleep more easily.
Community Support: Karoyog's online platform also provides opportunities for community engagement. You can connect with like-minded individuals and share your yoga journey, creating a sense of belonging and motivation.
Conclusion
Karoyog's Revolutionary Online Yoga for Beginners is truly changing the way people access and experience yoga. Their innovative approach makes yoga accessible to everyone, regardless of their location or experience level. With a focus on accessibility, customization, and expert guidance, Karoyog provides an exceptional platform for beginners to embark on their yoga journey. The benefits of stress reduction, improved flexibility and strength, mental clarity, enhanced sleep, and community support make Karoyog an excellent choice for anyone looking to explore the transformative power of yoga. So why wait? Join the revolution and start your yoga journey with Karoyog today!
READ MORE CLICK HERE