Experience the Ultimate Calm: Best Yoga Classes in Sarita Vihar-Karoyog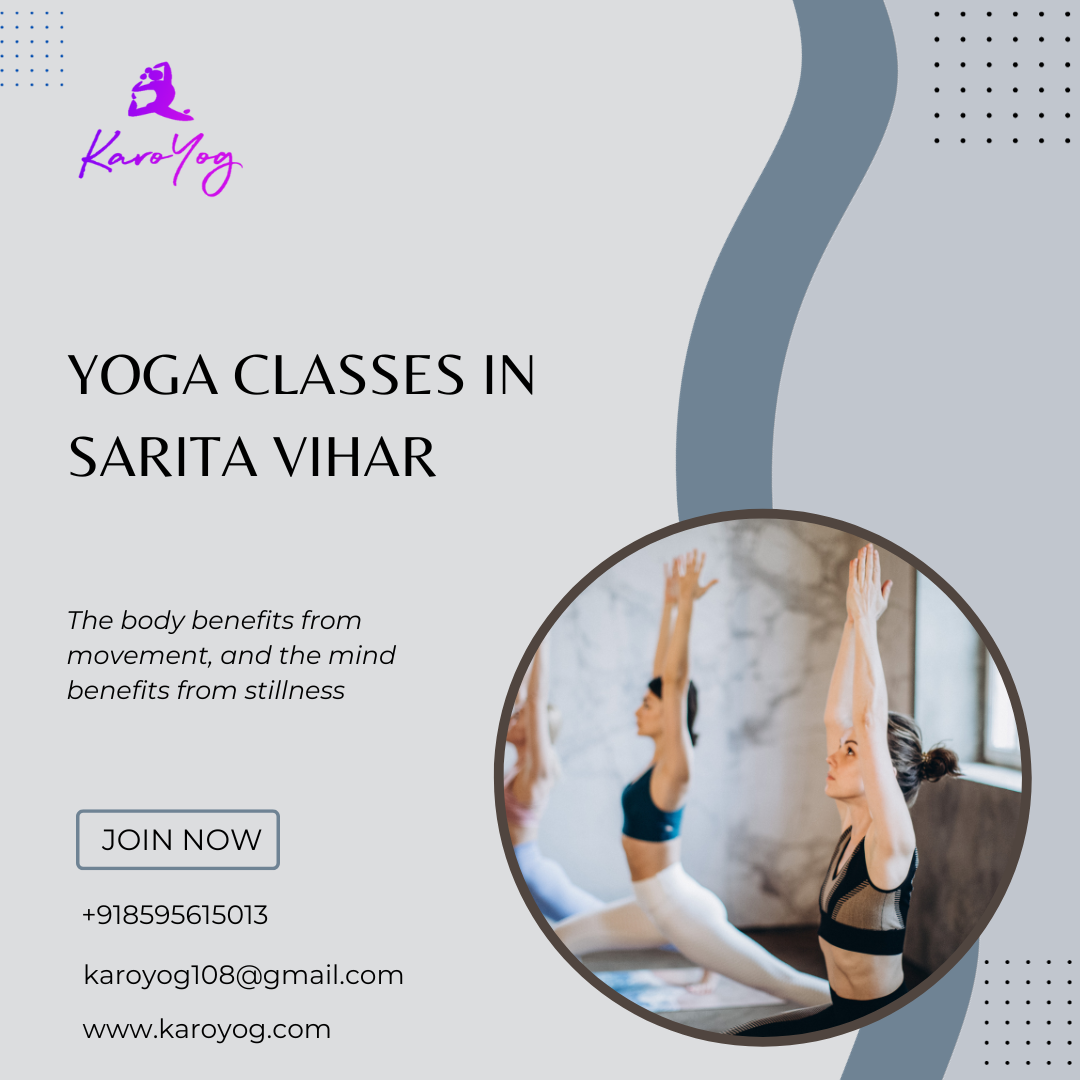 In the bustling and fast-paced world we live in today, finding solace and balance is essential. Yoga, an ancient practice that combines physical postures, breath control, and meditation, offers a way to achieve just that. Sarita Vihar, a serene locality in the heart of Delhi, is home to a remarkable yoga center known as "Karoyog." In this article, we'll explore the enriching world of yoga classes in Sarita Vihar, Karoyog, and discover how this center provides a haven for those seeking holistic well-being.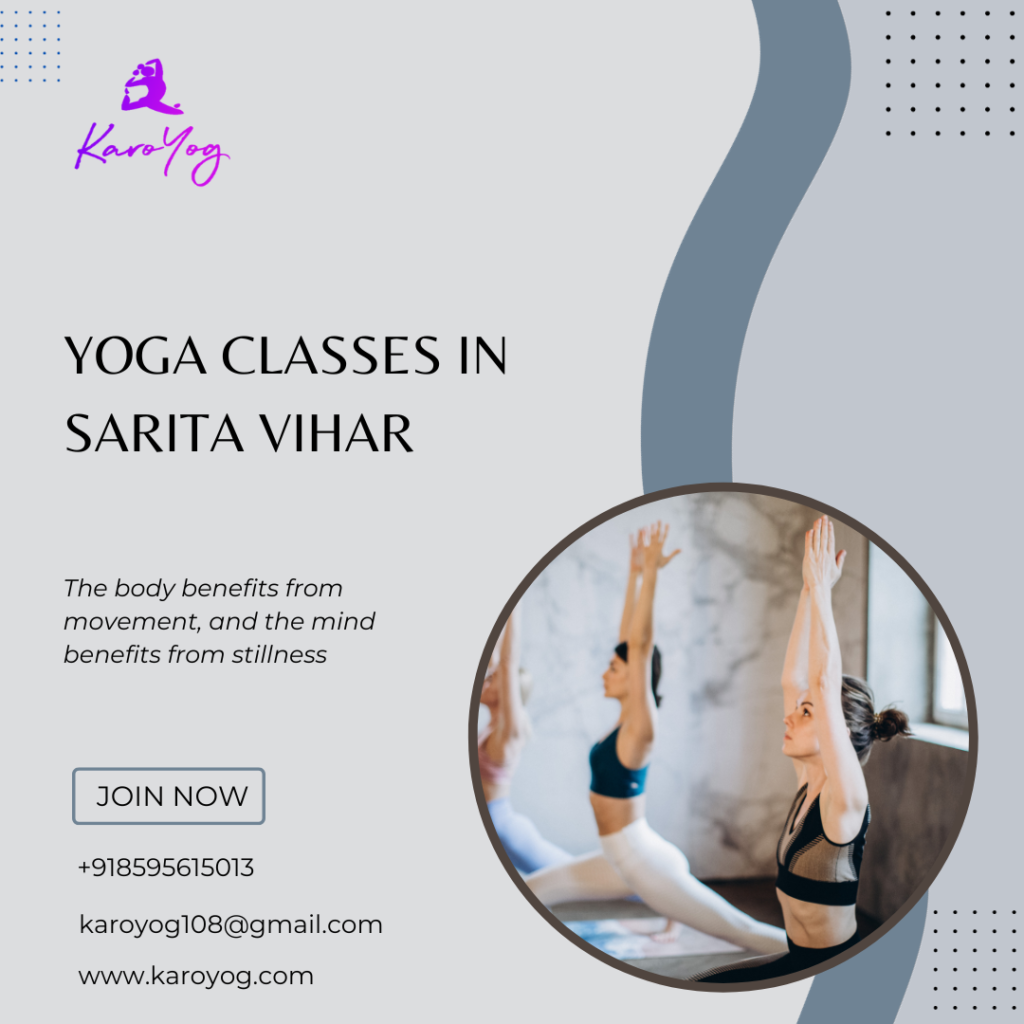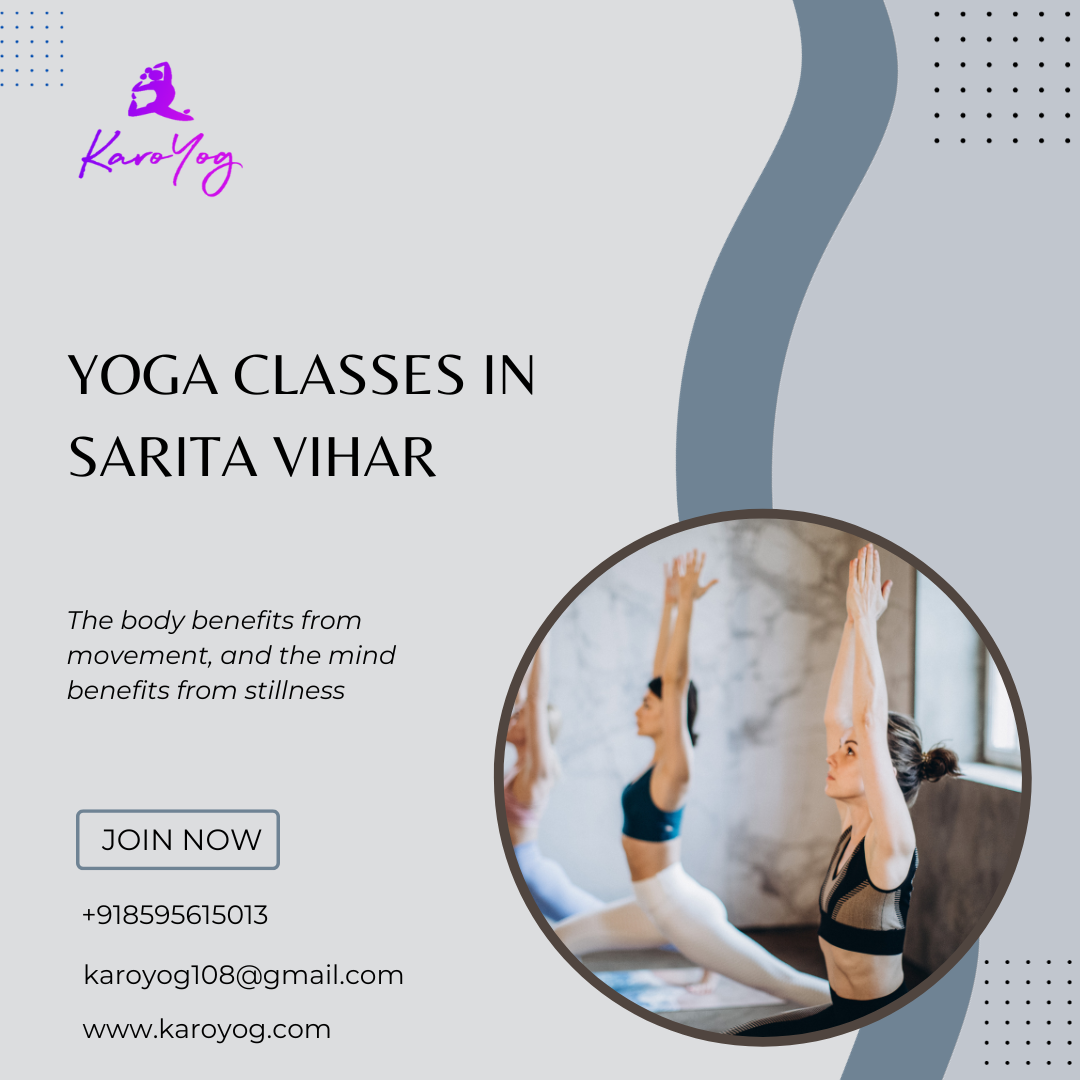 Benefits of Yoga
Yoga is not merely a physical exercise; it's a way of life that promotes flexibility, strength, and balance while also nurturing mental calmness and inner peace. Regular practice of Yoga has been known to reduce stress, enhance physical fitness, and boost mental clarity. It offers a comprehensive approach to health that goes beyond the confines of a gym or a meditation center.
Finding the Right Yoga Classes in Sarita Vihar
Choosing the right Yoga class is crucial for achieving the desired benefits. It's important to consider factors like the style of Yoga, the expertise of instructors, class schedules, and the overall ambiance of the Best Yoga Classes in Sarita Vihar. Karoyog excels in all these aspects, making it an ideal choice for residents of Sarita Vihar.
Karoyog – A Leading Yoga Center
Karoyog has established itself as a leading Yoga center in Sarita Vihar. With a mission to spread the wisdom of Yoga to the community, it offers a range of Yoga styles, from Hatha to Vinyasa and more. Whether you're a beginner or an experienced practitioner, Karoyog caters to all levels.
Yoga for Beginners
For those who are new to Yoga, Karoyog provides a welcoming environment. Beginners can start with the basics and gradually progress. Yoga is not about competing with others but improving oneself. join Yoga Classes in Sarita Vihar
Different Yoga Styles
At Karoyog, you'll find a variety of Yoga styles to choose from. Hatha Yoga focuses on postures and alignment, while Vinyasa involves a series of flowing movements. Kundalini Yoga aims to awaken your spiritual energy, and Yin Yoga is all about deep relaxation. The Yoga Classes in Sarita Vihar diversity ensures that there's something for everyone.
Experienced Instructors
Karoyog boasts a team of experienced Yoga instructors who are passionate about their craft. Their guidance and support ensure that students receive the most out of their Yoga practice. Instructors not only teach Yoga but also help in fostering a sense of community and support.
Class Schedules and Flexibility
Karoyog understands the time constraints and busy lives of its students. That's why they offer flexible class schedules. Whether you're an early riser or prefer evening sessions, there's a class for you. Additionally, Karoyog provides both online and in-person classes, ensuring that you can practice Yoga at your convenience.
Yoga for Stress Relief
One of the primary reasons people turn to Yoga is to alleviate stress. The mindful breathing and meditation techniques taught at Karoyog can help you relax and find inner peace, even in the midst of a chaotic urban Yoga Classes in Sarita Vihar.
Yoga and Physical Fitness
Yoga isn't just about flexibility; it's also an excellent way to improve physical fitness. The various postures and movements engage different muscle groups, enhancing strength and endurance.
Yoga for Mental Peace
In today's fast-paced world, finding mental peace is a priceless treasure. Yoga at Karoyog fosters a sense of mindfulness and inner tranquility, helping individuals cope with the challenges of daily life.
Community and Support
Karoyog is more than just a Yoga center; it's a community. Students often form lasting bonds and find support on their journey to better health and well-being.
Testimonials and Success Stories
Don't just take our word for it; listen to those who have benefited from Karoyog's Yoga Classes in Sarita Vihar. Real-life success stories and testimonials from students reveal the positive impact that Yoga has had on their lives.
Pricing and Packages
Karoyog offers a range of pricing and package options, making Yoga accessible to all. They understand that each individual's needs and budgets are unique, and they strive to accommodate everyone.
Conclusion
Yoga is a transformative practice that can bring balance and peace into your life. Yoga Classes in Sarita Vihar, Karoyog offers the perfect place to start or continue your Yoga journey. Whether you're looking to relieve stress, improve physical fitness, or find mental peace, Karoyog's experienced instructors and welcoming community will support you every step of the way.
FAQs
1. How can I find Karoyog in Sarita Vihar?
Karoyog is located at Sarita Vihar, New Delhi, 110076, India
2. What are the class timings at Karoyog?
Karoyog offers classes throughout the day, with flexible timings. You can check their schedule on their website.
3. Is Yoga suitable for beginners?
Yes, Karoyog welcomes beginners and offers specialized classes to get you started.
4. What should I bring to my first Yoga class?
Wear comfortable clothing and bring a Yoga mat if you have one. If not, you can rent or purchase one at the center.
5. How do I sign up for classes at Karoyog?
You can sign up for classes on their website or visit the center in person to enroll. Get started on your Yoga journey with Karoyog today!
Read more